THE ART OF BERNIE VAN DER VYVER - Born in 1969, Bernie van der Vyver played from an early age with his pencils, paper and clay on a farm in Bethal. He had a passion for Wildlife and was drawing wild animals as soon as he was able to control a pencil.
Inspirational Art
Bernie's detailed work offers inspiration with true African spirit. Terms that come to mind, referring to his artwork, are: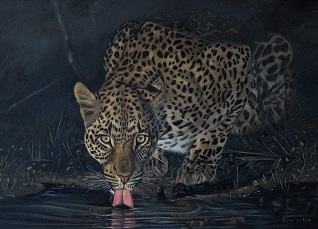 Passionate
Lifelike
Creative
Detailed
Inspired
Commissions
Most of Bernie van der Vyver's work is commissioned To find out how you can commission Bernie, to do work for you, please contact him. Paintings where other photographers' photos are used, permission is acquired and copyright fees are paid over to them..