Born in 1969, Bernie van der Vyver played from an early age with his pencils, paper and clay on a farm in Bethal. He had a passion for Wildlife and was drawing wild animals as soon as he was able to control a pencil. One of his favourite pastimes was to escape to the marshlands where he could mould forms of animals from clay.

During his high school years, he took art as a subject, but his work was considered too realistic to qualify as art. A few years later he took up a sub division of art: Sculpting as a subject and worked mainly with iron as a medium. He matriculated with a distinction in art and received certificates throughout his schooling years from the Department of Education.

His creativity and passion blossomed in 1999 and he started to draw in soft pastels. His paintings started to sell and he painted on commission until 2005 when he explored oils due to the request by prospective buyers.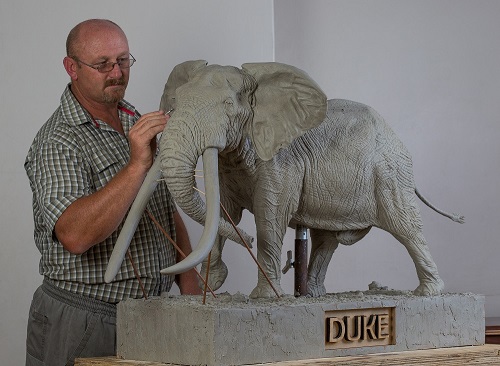 Image: Bernie at work on the clay sculpture of Duke the Elephant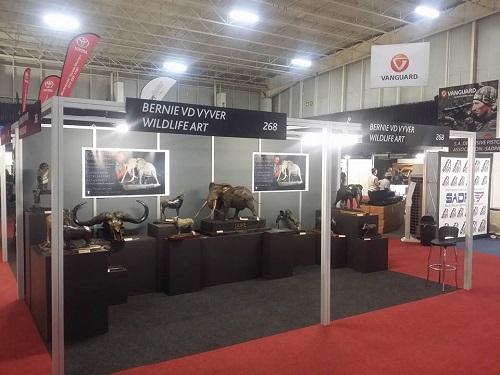 Image: Bernie regularly exhibits his art at HuntEx
His talent is so diverse that he also paints pictorial paintings on commission despite the fact that wildlife is his first love. He also enjoys doing wildlife photography in the National Parks, which he uses as reference for his unique paintings.
In 2006, he resigned from the South African Police Service and started to practice his art full time. He continues in the field of sculpting and is exceptionally gifted in sculpting wild animals out of clay, which are then cast in bronze by the foundry. Before he starts a sculpture, he makes a detailed study and plan which includes a visit to a National Park and takes photographs of the particular animal.
Bernie's detailed work offers inspiration with true African spirit.

Most of Bernie van der Vyver's work is commissioned To find out how you can commission Bernie, to do work for you, please contact him. Paintings where other photographers' photos are used, permission is acquired and copyright fees are paid over to them..